Clips
DEEP POCKET CLIP
A knife clip designed to mount close to the end of the handle so very little of the knife remains exposed when it is clipped in the pocket.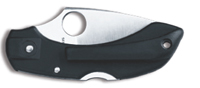 INTEGRAL POCKET CLIP
A pocket clip molded as an integral part of the handle rather than a separate component attached with screws. This style of clip was used on early Spyderco models.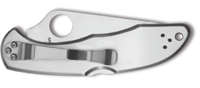 METAL CLIP
The most commonly used clip on Spyderco knives, metal clips can be made of stainless steel or titanium. They vary in shape, size, and finish to complement specific knife designs. They may be attached to the handle with screws or barrel bolts and often may be adjusted to provide multiple carry options.


SHACKLE CLIP
A spring-loaded barrel clip with a release pin positioned near the Spyderco Round Hole letting you unhook and open the folder in one motion without needing to rotate the knife in hand. It snaps through a loop for attachment to a PFD, spray skirt, harness, buoyancy equipment or carabineer. Found on the C30BK2 Remote Release2.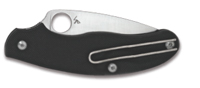 WIRE CLIP
A clip made from formed heat-treated wire that is attached with a screw or barrel bolt. Some wire clips are designed for deep-pocket carry, while others position the knife higher and closer to the pocket's edge.