Whale Rescue Blade™
BWRS
DISCONTINUED
Not Offered for Retail Sale
$250.05 MSRP
Description
Technical Specs
In 2006, off the coasts of Australia, there were 21 reported cases of large whales entangled in various fishing gear. Of those, there were 4 confirmed deaths, 9 whose fate is unknown (but likely grim) and 8 who were rescued. Whales are dying. There's no way of knowing exact numbers because these are only the whales that were spotted. These numbers are likely to increase as the population of whales increases over time.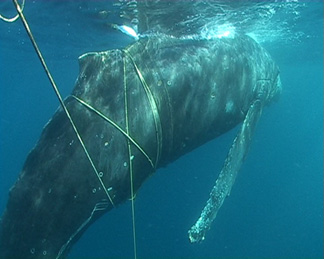 In 2005 Doug Coughran (Senior Wildlife Officer, Western Australia Department of Environment and Conservation) knew they needed a specialized blade to make their rescues more effective and safer for their rescue teams. He contacted Jim Steele (an amateur knife maker) about designing a new blade to deploy on their 10' rescue pole.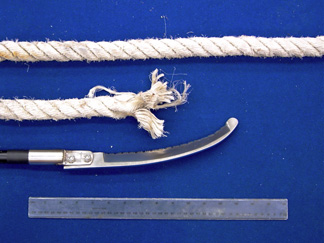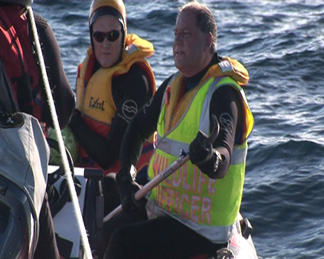 Doug's team goes out in to the open waters of the Indian Ocean in a tiny inflatable raft to save these creatures. They go in a team of three and hang over the tiny raft reaching in to the depths of the sea to cut lines of rope and gear off of a frightened, stressed animal. Did we mention, it's an enormous animal? Often these entangled whales are 8-12 meters (26-39 feet) in length and weigh in at several tons?

Jim Steele designed a special blade and immediately thought of the SpyderEdge. He explained to Doug that the Spyderco serrations were the only thing that he knew of that would make the blade work the way they need it to. He suggested to Doug that Spyderco be contacted.



Meanwhile, back in the U.S., Spyderco had already been working for quite some time with the Provincetown Center for Coastal Studies in Massachusetts. As fate would have it, so had Doug Coughran. A mutual contact gave Doug the information he needed and Doug set out to see what was possible. Doug explained their needs and asked if we could make the blade, Sal Glesser (President of Spyderco) replied, "Why not?" Several members of our own crew questioned why we would agree to make these blades. They were large, expensive and difficult to make. The decreasing radius Hawkbill blade alone was a challenge, to put a SpyderEdge on it required a great deal of skill. However once they were able to see photographs of the whales that the blade was intended to help, they understood clearly and were committed to supporting the project.

It took us a while to complete the first blade, but we were able to get it to Doug in time for Australia's national workshop for Large Whale Disentanglement. During this workshop Doug was able to demonstrate the new Spyderco Whale Rescue Blade to his colleagues on 40mm and 50mm rope; they were stunned by the blade's performance. Just two days after receiving the blade, it was put to work in its first rescue. A 10m Humpback Whale had become entangled and anchored by two sets of pot gear. After a meticulous process of assessing the rope wraps, a sequence of 5 cuts disentangled the whale 6 weeks later the blade was also instrumental in the release of a pregnant humpback whale. She was entangled and anchored by two sets of pot gear which had wrapped around her tail in excess of ten times. Oh, did we mention there was a very large shark circling her? Sharks often prey on entangled whales. The sharks just wait until the whales are so worn down that they can't fight. It's a horrible, painful fate if the whale is not rescued. Many people have thought Whales to be fish; they are in fact, not fish. They are warm blooded mammals that breathe air, not water. These creatures give live birth to their young, young who feed on their mother's milk. To date, there have been 5 whales (and one unborn calf) rescued using the Spyderco Whale Rescue Blade. As this is written, it's early Spring here in the U.S., we're coming up on another season in Australia, We hope we're able to continue to make the same difference this year.

The first 20 blades were given to the Western Australia Department of Environment and Conservation and to Baden H Lane, Manager (Shark Control Program), Queensland Boating and Fisheries Patrol. There are now 48 blades being used in Australia and off the Eastern Coast of the United States. Spyderco loses well over a hundred dollars on every blade, but we think there is a bigger picture here than money. We appreciate the chance to be able to help make a difference. The risk these rescue teams take is to be commended. Very few people would see the bigger picture clear enough to put their own life on the line.

Made in Golden, Colorado U.S.A. Earth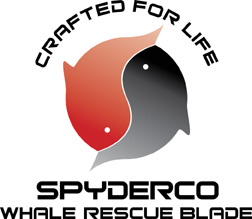 Overall Length
11.25" (286mm)
Blade Length
11.25" (286mm)
Steel
440C
Closed Length
" (mm)
Edge Length
8" (203mm)
Weight
6.5oz (186g)
Blade Thickness
.196" (5mm)
Handle
N/A
Clip Position
N/A
Tip Carry Position
N/A
Lock Type
N/A
Grind
N/A
Sheath
N/A
Origin
United States