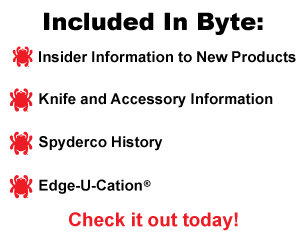 What is the Spyderco Byte?

The Spyderco Byte will keep you informed about the latest and greatest from Spyderco - from product announcements and updates to history about the company knife-care tips and tricks. You will get it all delivered straight to your inbox with no commitment. You can easily unsubscribe at any time using the clearly labeled unsubscribe links at the bottom of every email.

Sign up today and you will be among the first to know about new product releases and much more!

Spyderco Byte: The Vitals

How often we email you: Currently, we send out 1 Spyderco Byte a month.

Information Sharing: Your name and email address you provide to us for the Spyderco Byte will not be shared with any 3rd parties, or used for any other Spyderco marketing purposes.

How to Unsubscribe: You can unsubscribe at any time by using the link provided at the bottom of every email.

Who will be sending it? If you sign up, you will receive an email from byte@spyderco.com. Be sure to add this address to your safe senders list so you don't miss it!

Questions? If you ever have any questions, feel free to contact byte@spyderco.com.

Read our Privacy Policy.