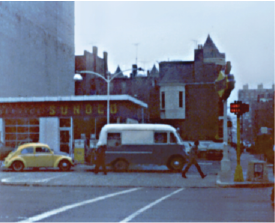 Some people have commented that as a company, "Spyderco is like a mouse with a megaphone". Their perception is that we are a larger company, the reality is we are a small company led by a family who founded, and still own and run the joint.
Armed with this credo and some innovative ideas, Sal and Gail Glesser hit the road in a converted bread truck to try their hand at business and start Spyderco. More than thirty years later Spyderco distributes into 54 countries and manufactures knives in five. The business remains family owned and operated; churning out innovative knife designs found in the pockets and gear belts of law enforcement officers, outdoorsmen, military personnel, hunters and knife fans around the globe.
In 1976 Sal and Gail purchased a 1955 bread delivery truck, they converted it into a small mini motorhome, moved in, called it home, gassed it up and began a wandering odyssey from home shows to state fairs, living in campgrounds. In its infancy Spyderco sold just knife sharpeners pitched to fairgoers. The Glessers invented and designed the Spyderco Triangle Sharpmaker. In the 1970s knife serrations were standard only on kitchen cutlery and the normal at-home cook had no idea how to sharpen teeth without wearing them away. The triangular corner of the ceramic stone solved that, triggering the Glessers to go from knife hobbyist to fledgling knife designer inventing the first Spyderco CLIPIT in 1981. The first CLIPIT was revolutionary. Sal and Gail were the first to add a pocket clip to a folding knife, incorporate a method of one hand opening, via the Spyderco Round Hole and included serrations on the blade. All were firsts in the knife industry, and are still mainstay features in cutlery produced today.
More CLIPITS followed proliferating into a product line and starting a sister off-shoot product line of entry level knives called byrd knife. Design breakthroughs for both lines fuel industry standards and grow with innovation and the addition of new knife making materials all the time. Sal and Gail still are at Spyderco's helm and are in the office designing knives everyday. Stay tuned, we're just getting started.