SPYDERCO CULINARY PRODUCTS
Welcome to the world of Spyderco Culinary Products—a complete selection of knives and sharpeners specifically designed to meet the needs of all cooking enthusiasts. Whether you are a novice in the kitchen or a world-class professional chef, we offer high-performance cutting tools that are ideally suited to your skill level and budget. Although we continue to earn a devoted customer following with our best-selling "Kitchen Classics" knives and our easy-to-use Tri-Angle Sharpmaker®, we are not content to stop there. Spyderco is proud to announce that we are greatly expanding the scope of our kitchen products. From economical Z-Cut™ utility knives to all-new sharpening systems to exquisite expressions of traditional Japanese designs, the coming months will bring many exciting new developments. We encourage you to visit us often to see "what's cooking" at Spyderco Culinary Products. We know you'll like what you see.
Spyderco's core line of kitchen knives showcases premium MBS-26 stainless steel blades and durable injection-molded polypropylene handles. Available in a wide range of sizes, styles, and edge configurations, they have set the standard in kitchen cutting tools for more than 30 years.
Long before Spyderco made knives, we created the revolutionary Tri-Angle Sharpmaker®—the most versatile, easy-to-use sharpening system available. Still one of our most popular products, it will soon be joined by other equally revolutionary sharpeners—the Gauntlet™ and Galley-V™.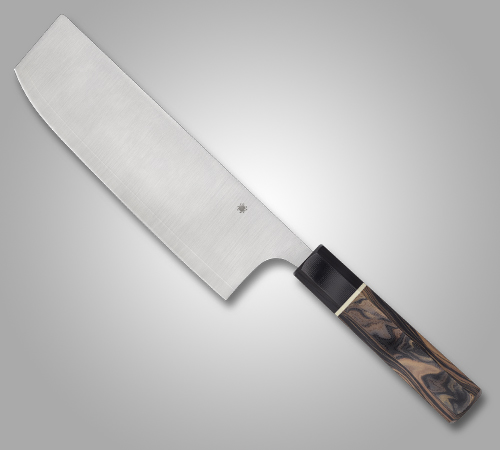 The Murray Carter™ Collection
Master Bladesmith Murray Carter is one of the world's foremost experts in Japanese kitchen cutlery. Spyderco's Murray Carter Collection faithfully translates his legendary craftsmanship and design into an extraordinary series of high-performance production kitchen knives.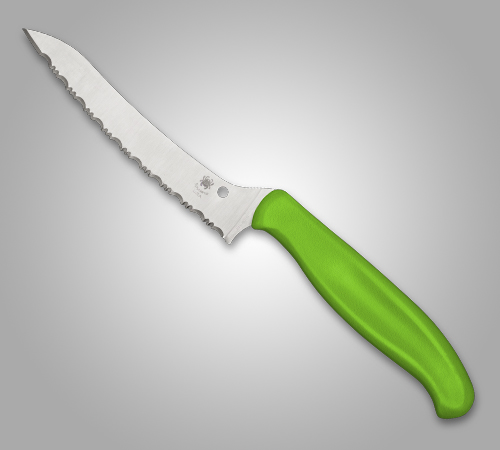 Versatile, practical, and extremely affordable, our Z-Cut designs take the concept of the "offset" kitchen knife to all-new levels with Made-in-USA quality and innovation. With bright, vibrant colors and exceptional function, Z-Cut knives are sure to become a coveted commodity in any kitchen.