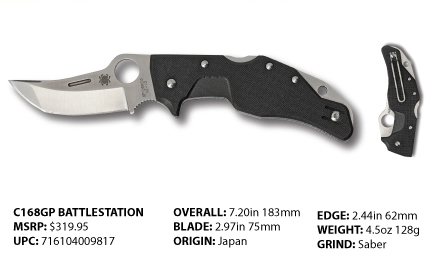 Alexandru Diaconescu, better known to the knife community as "Dialex," should be no stranger to savvy Spyderco fans. In addition to his roles as an economist, a talented graphic designer, and an information specialist for the Romanian police, he is also a lifelong knife enthusiast with a deep passion for Spyderco knives.
A number of years ago, he combined his interest in Spyderco designs with his skills as a graphic artist and created a series of extremely realistic artistic renderings of potential knife designs. The unique quality of his work attracted the attention of Spyderco's founder, Sal Glesser, and ultimately led to Dialex' first collaboration with Spyderco, the futuristic C102 Adventura, which was also the 2005 Spyderco forum knife.
In 2011, Spyderco released the second Dialex collaboration—a unique folder with a dramatic integral guard named the C150 Junior. Designed to protect the user's hand from accidental contact with the blade, it was intended primarily for novices but gained great favor with experienced knife users as well.
Spyderco's third and newest Dialex collaboration represents his concept of a personal-defense knife and is appropriately named the Battlestation. It is an extremely stout folding knife built on a framework of solid stainless steel handle liners. These full liners define an ergonomic profile and create a pronounced integral finger guard that provides substantial protection for the user's hand. They are capped by textured G-10 scales that ensure a secure grip and feature meticulously machined relief cuts to allow easy access to the blade's Trademark Round Hole™ when opening the knife. At the rear of the handle a solid stainless steel backstrap and post provide excellent strength, and, together with a strategically exposed area of the liners, offer two handy attachment points for lanyards or fobs.
The blade of the Battlestation is a unique hybrid profile that features a slightly curved, Americanized tanto-style point and a strong saber-ground PlainEdge™ cutting edge. Ground from 3.5mm (0.140 inch) VG-10 stainless steel, it also features twin fullers (grooves) in the blade flats and a beveled swedge at the tip to ensure a strong but capable point. An index-finger choil at the heel of the blade allows the user to choke up for extra control and features carefully machined jimping (textured grooves) for extra grip security. For swift, one-handed opening, the blade includes a 13mm Trademark Round Hole that also unmistakably identifies the Battlestation as a Spyderco design.
Linking the blade and handle of the Battlestation together is a heavy-duty back lock. This over-engineered mechanism locks the blade securely in the open position and features a David Boye dent to help prevent unintentional closing during use. A reversible wire clip attached to the butt end of the handle supports left or right-side tip-up carry and complements all the other features of the knife to make its carry and operation completely ambidextrous.
Although not specifically intended as a "hard-use" folder, the Battlestation's stout blade profile and robust construction make it an excellent choice for users who value strength in their knives.
The first production run of the Battlestation is complete, in stock and now shipping. If you're one of the many Spyderco fans who have been eagerly awaiting this knife, act now.