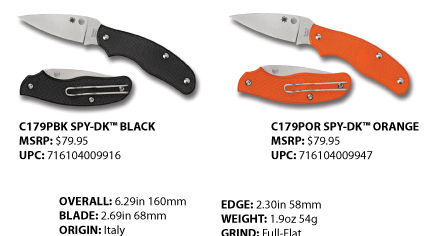 Normally progress involves advances in materials, function, performance, and reliability. However, sometimes moving forward to meet the needs of our changing society means taking a calculated step "backward" in technology. A prime example of this concept is Spyderco's Spy-DK™ folding knife.
As the knife laws of other countries became stricter, the UK Penknife became increasingly popular among knife users in many other areas of the world. Some countries, however, like Denmark, prohibited any one-hand-opening knife. To meet the needs of Danish knife users, in 2005 Spyderco produced a modified version of the UK Penknife with a small, chamfered Trademark Round Hole and a shorter blade. The reduced size of the Round Hole still proudly proclaimed the knife as a Spyderco product, but eliminated its function as a "purchase" for one-hand opening. The "DK Penknife™" successfully met Denmark's legal requirements for a legally permissible pocketknife, but was only produced in limited quantities.
The Spy-DK traces its lineage back to Spyderco's UK Penknife™. Originally released in 2004, it was developed in response to restrictive laws in England that prohibited the carry of one-hand-opening lock-blade knives. The UK Penknife combined the key advantages of a classic Spyderco CLIPIT®—a convenient pocket clip and our Trademark Round Hole™—with an improved version of the traditional slipjoint mechanism that featured a notched joint. The resulting hybrid pioneered the concept of the SLIPIT™—a non-locking, clip-carried, one-hand-opening pocketknife—and was an immediate hit in England.
Having confirmed that there was a market eager for a Denmark-legal pocketknife, Spyderco approached Danish custom knifemakers Jens Anso and Jesper Voxnaes and asked them to design an all-new folding knife that was fully compliant with Danish knife law and was consistent with the traditional style of Danish working knives. The resulting knife, released in 2012, was called the Pingo™. Although it was well received and successfully met the needs of most Danish knife users, some of them appealed to Spyderco to make a Denmark-legal knife that offered a more conventional blade shape and better point utility. The response to that appeal was a second-generation DK Penknife—the Spy-DK.
The Spy-DK is based on the exact same platform as the UK Penknife. Its blade is full-flat ground from Böhler-Uddeholm's premium N690Co stainless steel, but its length is reduced to 2.69 inches (68mm) to comply with Danish law. Its Trademark Round Hole™ clearly identifies it as a Spyderco knife and provides a handy purchase for two-handed opening, but the hole is purposely small to prevent one-handed blade-opening methods. Its sturdy notched-joint mechanism is also powered by a strong spring that helps hold the blade securely in the open and closed positions, for safe use as a cutting tool while further precluding one-handed opening.
The Spy-DK's lightweight handle is constructed of injection-molded fiberglass-reinforced-nylon (FRN) scales attached directly to the stainless steel back spacer/spring. The molded checkered pattern on the scales and a textured index-finger choil at the juncture of the blade and handle ensure a secure grip and allow the user's index finger to serve as a natural stop to prevent unintentional closure during use. A reversible deep-pocket wire clip provides both left and right-side tip-up carry, keeping the knife accessible for immediate use while naturally blending with virtually any color of clothing.
Although created to conform with Danish knife laws, the Spy-DK's highly functional design and socially friendly demeanor make it a perfect choice for knife users everywhere. It combines convenient clip carry and a purposeful two-hand-opening into a design that redefines the non-locking pocketknife.
Sometimes progress does indeed start with a calculated step backward.