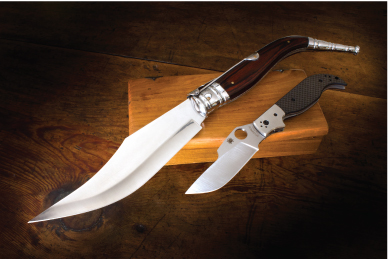 As one of man's oldest tools, the knife has taken many forms throughout history. Beyond its roles as a simple working tool and a weapon, the knife has also become an iconic symbol of the cultures that created it and a direct reflection of their values, beliefs, and identities.
The astonishing variety of knives in the world includes patterns that are purely functional, others that are primarily symbolic, and some that offer a unique combination of those qualities. But regardless of their actual purpose, many of these blades have become unmistakable emblem of the people and societies that created them. These unique knives were the inspiration for Spyderco's "Ethnic Series."
The Ethnic Series was originally conceived to recognize and pay homage to the distinctive cultural knives that have evolved through history. In addition to recognizing blade styles that are well known to collectors and historians, Spyderco's Ethnic Series was also developed as a means to highlight obscure cultural knives, their qualities, and the significance they hold to the people that created them.
Although other companies have produced historical reproductions of native patterns, Spyderco's Ethnic Series chooses to honor these designs in a different way: by expressing them primarily in the form of a modern folding knife. This format pushes the design envelope of the folder, challenging convention while still paying tribute to the traditional ethnic patterns. The result has been—and continues to be—an extraordinary accomplishment in modern knife design and manufacture.
Throughout the history of this project, Spyderco has partnered with some incredibly talented knifemakers who have been instrumental in translating the qualities of ethnic patterns into fully functional, state-of-the-art folding knives. The late Eduard Bradichansky, the late Bob Lum, and our current ethnic specialist Ed Schempp have all shared Spyderco's vision for this project. The knives in the Spyderco Ethnic Series are therefore just as much a tribute to their talents as they are to the cultures and traditional blades that inspired them.
Spyderco's current product line includes several Ethnic Series knives: the Chinese Folder (Bob Lum), the Navaja (Ed Schempp), and the Puukko and Nilakka (Pekka Tuominen). These will be joined in late 2013 by the Hungarian Folder, a design adapted from the traditional pocketknife of Hungary by Szakonyi Gabor.
Spyderco takes great pride in the knives of our Ethnic Series and we sincerely hope that our customers enjoy them both for their own qualities and for the rich cultural heritage that inspired them.