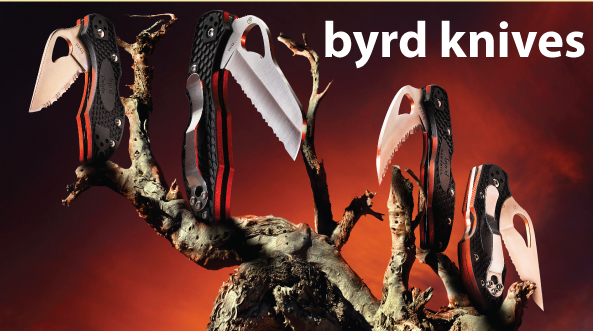 Spyderco offers a line of entry-level, cost effective knives called byrd Knives. Spyderco's byrd knives feature the same outstanding design, engineering and attention to detail as our core product line, but at economical prices that everyone can afford. Manufactured in China under the strict supervision and mentoring of Spyderco's engineers, byrd knives offer an incredible combination of manufacturing quality, performance, and reliability at prices that make them hands down the best value in the cutlery industry. byrd blades are ground from 8Cr13MoV stainless steel, a durable alloy that includes vanadium for enhanced toughness and edge retention. This popular material provides an excellent balance of cutting performance, edge retention, and ease of sharpening, making it the ideal platform for affordable working knives. byrd knives are an ideal option for cost-conscious knife users and also make very affordable gifts for friends who are new to knives.
All byrd knives feature the trademarked "comet" hole that provides swift, positive one-handed opening with either hand. They also feature a choice of handle materials that includes textured G-10, Bi-Directional Textured fiberglass-reinforced nylon (FRN), and satin-finished stainless steel. Other premium features like phosphor bronze washers, screw-together construction, and four-position clips complete the byrd package and enable these knives to provide the same functionality and versatility as our best-selling Spyderco products.
byrd Knives come in a selection of blade shapes and sizes with different handle materials including: G-10, FRN (fiberglass reinforced nylon) and stainless steel. Several models come with your choice of plain edge, combination edge and serrated edged blades.
*byrd Knives Retail range from $30.95-$49.95.