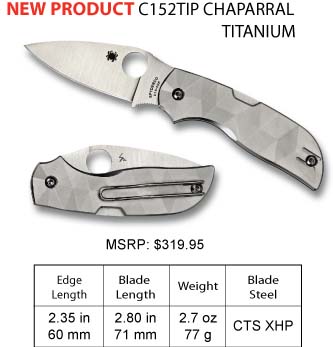 Chaparral is a plant native to the Western U.S. that is known for its ability to regenerate after harsh weather conditions and even wildfires. This resilient spirit makes it a fitting namesake for Spyderco's Chaparral series of gentlemen's knives. Similar in concept to our Sage series, which pays tribute to innovative knife designers and makers by rendering the same basic knife with different lock mechanisms, the Chaparral series uses a standard format to highlight distinctive handle materials and texture patterns.
The Chaparral was designed to be the consummate lock-blade gentleman's pocketknife. Exceptionally thin to keep its weight to a minimum and ensure ease of carry, it features a flat-ground leaf-shaped blade with outstanding edge geometry for near-effortless cutting performance. Its acute point excels at detail work, yet retains the structural strength for all-purpose use. A Trademark Round Hole facilitates easy one or two-handed opening and makes the knife very easy to get into action.
The Chaparral's highly evolved handle shape balances a full-sized grip and user friendly ergonomics with a slim, easily carried profile that tucks neatly into any pocket. A reliable back lock mechanism ensures that the blade stays securely locked in the open position and, along with a reversible wire pocket clip, makes the knife completely ambidextrous. The low-ride clip not only supports left or right-side tip-up carry, but it also blends unobtrusively with any color of clothing.
In the open position, the juncture of the Chaparral's blade and handle features a forefinger choil and a subtle thumb ramp on the spine of the blade. Both have jimping (textured grooves) and provide an ideal purchase for the thumb and index finger for superior control during use.
Spyderco released the original Chaparral in 2011. In addition to all the defining features of the design, it boasts skeletonized full stainless steel liners, subtly textured carbon fiber scales, and a blade ground from premium CPM S30V stainless steel—a particle metallurgy steel renowned for its edge retention, corrosion resistance, and exceptional cutting performance. Its black-coated low-ride clip blends perfectly with its carbon fiber scales and ensures convenient, unobtrusive carry on either side of the body.
The Chaparral found an immediate audience with those who appreciate sleek, stylish gentleman's folders and users looking for a compact, full-service folding knife with a bit of panache. Its first production run was followed quickly by subsequent runs, which featured Carpenter's CTS XHP blade steel.
Based on the warm reception the Chaparral received, Spyderco followed up in 2012 with the Chaparral2. The Chaparral2 combines all the proven qualities of the original design with a handle featuring solid titanium scales. In addition to offering extreme strength and light weight, the titanium scales are also precision machined with an intricate geometric pattern reminiscent of custom engraving. This pattern adds depth and sophistication to the design, as well as a subtle texture for an enhanced grip during use.