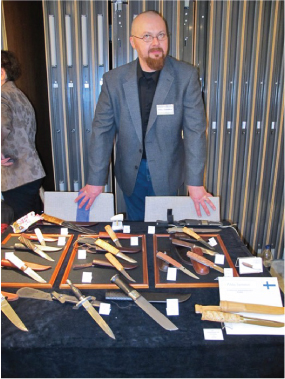 Mr. Pekka Tuominen is a Finnish knifemaker and has collaborated with Spyderco in creating a traditional Puukko Fixed Blade with a bit of Spyderco style.
Pekka was born in 1970 in Lieto, a small village near Turku, in southern Finland. In his youth he studied to be a youth-worker and a wilderness guide. This lifestyle path was ideal for Pekka who has been a Boy Scout and an outdoor man all his life. At 15 the thought occurred to him "what is the most important and perfect thing for outdoor living and outdoor safety/survival"? Without thought or question, his answer was a knife. Being Finnish, naturally it was a puukko-knife. Here began his knife obsession.
His knife preoccupation started early. Pekka's grandpa was a part-time blacksmith and his father, a retired carpenter. They presented him his first knife before he was 5-years old. He soaked-up every bit of information he could find on traditional Finnish puukkos. By 18 he was studying in Inari (Northern Lappland) to be a wilderness guide, hunting and making 2-week hiking treks, living in lean-tos with only a Puukko and a backpack. The school also taught the basics of puukko-knife making.
After Inari he served Finland in the Sissi-Unit (guerilla tactical unit) based in the forest where knives were a necessity for fire, food, shelter. He was part of a Guerilla unit as his regular military service and later served in a Finnish Battalion in Lebanon 1992-93, Bosnia 1996 and Kosovo 1999. In daily life for a soldier, the knife is first a tool and only temporarily, a weapon. He was still learning more about knives as tools and started to enjoy the aspect of adding art and beauty to a useful utensil.
By 1999 he married his wife Pirkko and moved to her family's farm and started a small organic cattle operation. Here he settled into knifemaking: 90% of his time was spent making knives with the remaining 10% of time farming.
Pekka's skill spread beyond simply forging and grinding, he started using different materials and techniques and prides himself on making his knives from start-to-finish. His specialty is traditional puukko-style knives but he also makes the occasional hunter, leuku, folder and dagger. For his blades, he forges steel and Damascus steel and does all his own grinding and heat treat. His handles are usually curly birch or Micarta and he hand-stitches all of his own plant-tanned leather sheaths.
Pekka's knives convey the simple but elegant style of traditional Finnish puukko-knives (such as Tommi, Pekanpaa or Kokemaen-Puukko models) and has led Pekka all over the world sharing his knowledge and selling his knives. "My goal is to be a better knifemaker. A handcrafter is never fully educated so I try to keep my eyes open and find things which I can improve in everything I make." This credo, combined with his innate talent, has earned him several Finnish Knife Championships titles and an honored place as one of only seven Puukkoseppamestari- or Master Bladesmiths in Finland.
Master Bladesmith status in Finland falls under the Ministry of Education. The Ministry tests a craftsman's work extensively before awarding the title of "Master" to any craftsman. It is a craftsman's highest accomplishment. Pekka is also a member of the Scandinavian Knifemakers Guild, an organizer of Guild's Helsinki Knife Show and a member of the Finnish Knife Association.