Spyderco has always been a trusted provider of products to military and law enforcement professionals, first responders, and other tactically-oriented end users. We regularly work with both units and individuals to recommend or even develop products that meet specific operational needs. If you have a specialized tactical need, we are ready to offer an OpFocus perspective of our products to help you meet it.
Spyderco Product Guide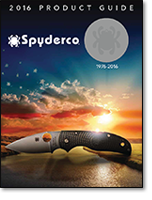 Click here to view the 2016 Spyderco Product Guide. Click here to request a hard copy of our current product guide.


---
Direct Federal Government Purchasing
(Authorized GSA Purchases and IMPAC-GPC Card Holders)
Spyderco, Inc., 820 Spyderco Way, Golden, CO 80403
GSA Schedule: Contract # GS-07F-9324S
Cage Code: 0ZKZ2
DUNS: 095753752
For Quotes: E-mail opfocus@spyderco.com or call 800/525-7770
National Stock Numbers:
Spyderco holds the following National Stock Numbers:
C10TR - Endura4 Trainer Red FRN - 5110-01-589-2635 (*NATO)
C14SBK - 93mm Rescue Black FRN SpyderEdge - 5110-01-543-4632 (*NATO)
C79PSBK - Assist Rescue Model Black FRN CombinationEdge - 5110-01-586-0695 (*NATO)
C89YL - Atlantic Salt 93mm Rescue Yellow FRN SpyderEdge - 5110-01-562-3848 (*NATO)
C91PBBK - Pacific Salt Black FRN PlainEdge Black Blade - 5110-01-583-9252 (U.S. Navy & USMC)
NSNs noted as "NATO" are managed by GSA Global Supply and U.S. entities wishing to order these products using the NSN must submit a Supply Support Request (SSR) through GSA Global Supply to be added as an approved buyer for the item.
State and Local Agencies:
For Quotes: E-mail opfocus@spyderco.com or call 800/525-7770

OpFocus Professional Purchase Program
(Formerly the "Save and Serve" program):
Spyderco greatly appreciates the service and sacrifice of our nation's duty-bound personnel and we believe very strongly in supporting them in every way possible. To ensure that they can equip themselves with the best knives and accessories available, we established the OpFocus Professional Purchase Program formerly known as the "Save and Serve" program). This program allows active-duty military and law enforcement personnel and qualified first responders to purchase Spyderco products directly from us at a substantial discount. The OpFocus Professional Purchase Program is open to qualified duty-bound personnel in the United States and Canada.

Participation in the OpFocus Professional Purchase Program is a privilege; one that should not be taken lightly. The OpFocus Professional Purchase program is open to active duty military, reserves, federal and local law enforcement, and fire or rescue personnel. Once approved for an account in the program you are entering into an agreement with Spyderco. OpFocus accounts are intended for your specific use, they are not transferable. By submitting your application you agree that you will at no time sell products purchased through the OpFocus program for a profit.
Duty-bound personnel interested in applying for our OpFocus Purchase Program, please e-mail opfocus@spyderco.com to receive complete information.

Restricted Items (Automatics):
You must be authorized and legally able to purchase and possess an automatic knife in accordance with 18 U.S.C. Section 1716(g)(2)(1-4), 15 U.S.C. Section 1244(2-4) and any applicable local or state laws.
RESTRICTED ITEM WARRANTY & REPAIR GUIDELINES: Should any RESTRICTED ITEM need to be returned to Spyderco for warranty and/or repair reasons, the item MUST be accompanied by a RESTRICTED ITEM RETURN FORM. The form must be completed and signed attesting to the fact that the person in possession of the knife is legally permitted to possess said item before any warranty work can be performed. If you are unable to provide the proper signed documentation, the knife will NOT be returned. There are NO EXCEPTIONS to this policy.
Download the Spyderco Automatic Knife Acknowledgment Form.
Download the Spyderco Restricted Item Return Form.