Spyderco Exclusives
Spyderco Sprint Run - This is defined by Spyderco as a Limited Edition Production of any Spyderco product in a configuration different than what has been previously produced and can include changes in the handle color, materials, blade steel, coatings, etc. The production quantity is pre-determined by Spyderco and is sold by Spyderco either through the existing Dealer and Distributor Network or Consumer Direct (The Mule Team Series).
Spyderco Exclusive - This is defined by Spyderco as a production of any Spyderco product at the request of a wholesale customer in a configuration different than what has been previously produced. Exclusives are produced for one customer or in conjunction with one customer and the Spyderco Factory Outlet Store (at the customer's request). Like Spyderco Sprint Runs, this can include changes in the handle color, materials, blade steel, coatings, etc. Production quantities are generally based on minimum material requirements, etc. and the customer reserves the right to re-order this item while it is under the exclusive contract. In most circumstances, Spyderco reserves the right to re-produce the item after contractual obligations have been fulfilled.
Spyderco Exclusive Product List
Many of the exclusives listed below may or may not still be available even if the delivery date has passed. Please see the individual website links to contact each company directly. Spyderco does not have inventory information for these products. All future delivery dates are estimated and subject to change.
This information is not all inclusive of Exclusive items produced and please note, in some cases where the item was produced for a Distributor, it may be available at multiple retail locations.

The product list below is loaded randomly in no particular order.
---
Carpenter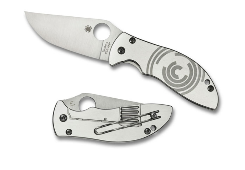 Foundry
SKU: C160P
Est. Delivery: TBD
MSRP: $349.95

At this time, the C160P Foundry is a special project between Spyderco, Inc. and Carpenter Technology, Inc. to bring a unique offering available exclusively to Carpenter Technology, Inc. employees and retirees. The good news is Spyderco will be offering a Foundry CLIPIT to the general market after we have fulfilled our exclusive commitment. The general production Spyderco Foundry CLIPIT will be publicly unveiled in the Spyderco product line as a line-item CLIPIT folder and will carry an MSRP of $349.95.
At the Foundry's core is its wide, clip-point blade, machined from Carpenter CTS® XHP. CTS® XHP is an exceptionally tough powder metallurgy steel that is air hardened with added carbon and chromium for exceptional corrosion resistance and edge retention. The blade is machined with a fine cutting edge and full flat-ground for even higher strength and superior edge geometry. The Spyderco Trademark Round Hole™ makes the knife easily accessible for one-hand opening.
The handle scales are engraved with the Carpenter Steel logo and are Carpenter Custom 465® stainless steel with a Project 70®+ Type 316L stainless back spacer. Its wire pocket clip is Custom 465 stainless affixes to the handle for right-hand, tip-up pocket carry. A sturdy Chris Reeve Lock (R.I.L.) mechanism locks the blade in the open position and ready for use.
The Foundry symbolizes the spirit of American manufacturing-pride and innovation. It showcases both the Spyderco and Carpenter brands in a single unique knife design made with preferential alloys.
JB Distributing
- Visit Site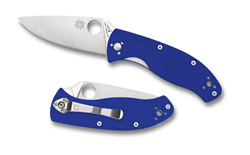 Tenacious Blue G-10 - 8Cr13MoV Blade
SKU: C122GPBL
Est. Delivery: February 2012
*Distributor Exclusive - available at multiple dealers

EDC Forums
- Visit Site
Manix2 Moonglow - CPMS30V - EDC Forum Logo
SKU: C101MP2
Est. Delivery: December 2011
*1st delivery was February 2011

Lone Wolf Distributors
- Visit Site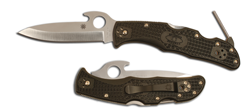 Endura Emerson Opener Tactical Armorer Tool
SKU: C10PTAW
Est. Delivery: February 2012
JB Distributing
- Visit Site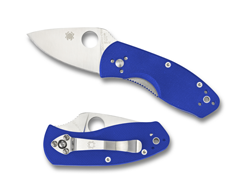 Ambitious Blue G-10 - 8Cr13MoV Blade
SKU: C148GPBL
Est. Delivery: June 2012
*Distributor Exclusive - available at multiple dealers

Bento Box Shop
- Visit Site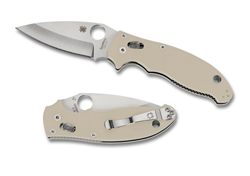 Manix2 Tan G-10 CPM-M4
SKU: C101GTNM42
Est. Delivery: March 2011
Knifeworks Inc
- Visit Site

Military Model Peel Ply Carbon Fiber - M390 Blade
SKU: C36CFM390P
Est. Delivery: February 2012
USN Forum
- Visit Site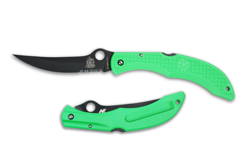 USN Toxic Green Catcherman - Black H1 Blade
SKU: C17PSGRBK
Est. Delivery: September 2011
*This item also available through the Spyderco Factory Outlet. More »
County Comm
- Visit Site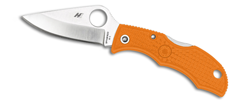 Ladybug3 Salt Orange FRN - H1
SKU: LORP3H1
Est. Delivery: October 2010
Bento Box Shop
- Visit Site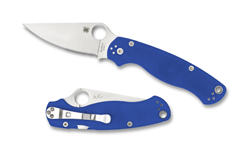 ParaMilitary2 Blue G-10 - M390 Blade
SKU: C81GPBL2
Est. Delivery: January 2012
JB Distributing
- Visit Site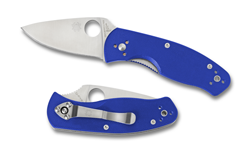 Persistence Blue G-10 - 8Cr13MoV Blade
SKU: C136GPBL
Est. Delivery: April 2012
*Distributor Exclusive - available at multiple dealers

Bayou Shooter Forum
- Visit Site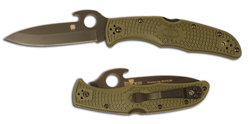 Endura Emerson Opener Olive Green FRN - Black Blade - VG-10
SKU: C10PGRBWW
Est. Delivery: December 2011
*This item also available through the Spyderco Factory Outlet. More »
Midwest Gun Exchange
- Visit Site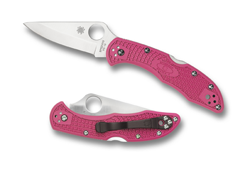 Delica4 Pink - VG-10
SKU: C11FPPN
Est. Delivery: October 2010
*Distributor Exclusive - available at multiple dealers

County Comm
- Visit Site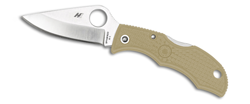 Ladybug3 Salt Tan FRN - H1
SKU: LTNP3H1
Est. Delivery: April 2011
Stag Arms
- Visit Site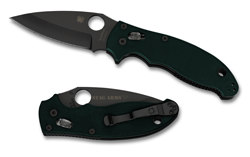 Manix2 Dark Green G-10 - CPMS30V - Stag Arms Logo
SKU: C101GPGRBK2
Est. Delivery: December 2010
Blue Ridge Knives
- Visit Site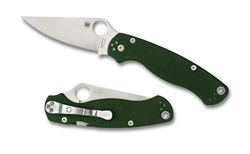 ParaMilitary2 Green G-10 - CTS-204P Blade
SKU: C81GPGR2
Est. Delivery: June 2012
*Distributor Exclusive - available at multiple dealers

Cutlery Shoppe
- Visit Site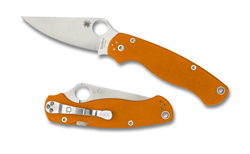 ParaMilitary2 Orange G-10 - CTS-XHP Blade
SKU: C81GPOR2
Est. Delivery: April 2012
Moteng NA
- Visit Site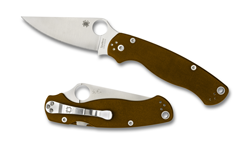 ParaMilitary2 Brown G-10 - CPM-S35VN blade
SKU: C81GPBN2
Est. Delivery: March 2012
*Distributor Exclusive - available at multiple dealers

Blue Ridge Knives
- Visit Site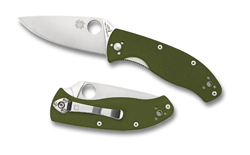 Tenacious Green G-10 - 8Cr13MoV Blade
SKU: C122GPGR
Est. Delivery: March 2012
*Distributor Exclusive - available at multiple dealers

JB Distributing
- Visit Site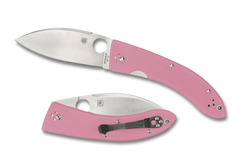 Chinese Folder (Large) Pink G-10 - VG-10 Blade
SKU: C143GPNP
Est. Delivery: December 2011
*Distributor Exclusive - available at multiple dealers