Spyderco Trademark Round Hole
The Spyderco Trademark Round Hole is the industry symbol of quality. It is our most recognizable feature and facilitates easy opening and closing of our knives with one hand. The hole offers convenient access and maximum control while opening as well as accommodating large, small and gloved hands. The position of the hole in the blade and the fact that it is round allow for a continuous opening motion. The thumb rests against the hole at a comfortable distance from the palm permitting easy rotation from the pivot point.
To open the knife using the hole, place the knife in your open hand at the base of your fingers and grasp the clip side of the handle with the tips of your fingers. Rest the pad of your thumb in the hole, then gently and smoothly slide the blade away from the handle (see below). When a solid click is heard, the knife is locked in the open position (note that the blade should always be locked securely in the full open position before use).
One Hand Opening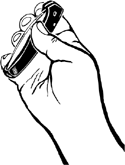 To close a folding knife that includes a front lock, simply turn the open knife in your hand so that your fingers are on the open side of the handle and your thumb rests on the lock release. Making sure that your index finger is located as high as possible on the handle, release the lock by pressing with your thumb, a gentle flick of the wrist may be necessary. The kick (the unsharpened portion at the base of the blade) will fall onto your index finger protecting your hand from the cutting edge. Rotate the knife so that it is sitting at the base of your fingers with your fingertips on the clip side of the handle (the opening position). Place your thumb pad in the hole or on top of the blade spine and glide the blade safely to the closed position (see diagram). Slightly different closing procedures are used with other locking mechanisms. All closing mechanisms require the utmost caution and care.
In many Spyderco models, the hole forms a hump on the top of the blade that serves as a thumb rest for increased cutting control.